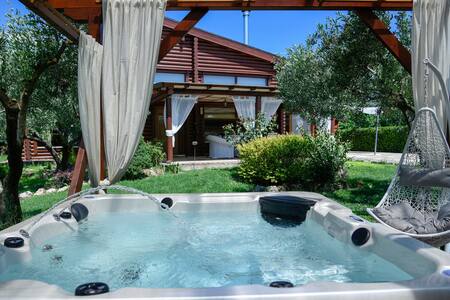 SUPERHOST
Buong chalet · 6 na bisita · 3 higaan · 2.5 paliguan
Luxurious Finnish Wooden House on the Countryside
One of a kind luxurious Finnish wooden house Resort & Spa. 150m2 wonderfully placed on a green garden . It has an outdoor hot tub spa for five persons. It is situated less than 10km from the airport and 15km from the city center of Thessaloniki.It's on the main road between Thessaloniki and Chalkidiki.Fully equipped with all necessary furniture and appliances. Sophisticated security sustem and automated front entrance all remotelly controlled. 3 master bedrooms, pets allowed.
A unique wooden house on the beach! All you need in 34m2! It's the iHouse and it's fully equipped with all needed amenities. The iHouse is placed on our field. If you are looking for a place to getaway, relax and enjoy the beauties of nature, then the iHouse is ideal for you!
A peaceful retreat within the woodland forest of Mt. Holomondas.The cottage is perfect for those who want to escape the city and enjoy the countryside. It is a great base from which to explore the mountains, beaches and villages of Halkidiki.